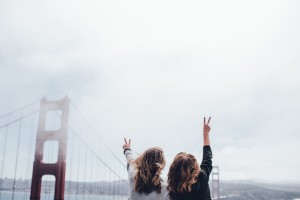 What Can I Say? She Just Gets Me
"Friendship is born at that moment when one man says to another: "What! You too? I thought that no one but myself . . .""
― C.S. Lewis, The Four Loves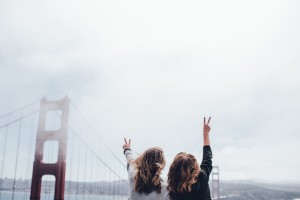 Have you ever met someone and you just felt a click – a connection that makes you think you must have known this person all your life?  Or even multiple lifetimes?  Someone who just "gets" you?  I know I have.
I'm just coming off facilitating a 3-day day retreat with a wonderful group of open-hearted, willing people who were there to clear away the wreckage of their past and step into new roles in their lives.  And as much as it's inspiring work for me, it's also exhausting.  After such a retreat, all I want to do is go home and rest, regroup and get spiritually re-centered. But coincidentally, a dear friend – a woman who can deeply double me – was having a big party to celebrate her 25th year anniversary of being clean and sober.
After the retreat, I made a point of spending time with her – helping her do errands and prepare for the party – knowing that I would be making the 2 1/2 hour drive home that night and not be coming back for the event.  Even before the retreat, I had had a particularly challenging and emotional week, and had told her that I just wouldn't be up for a big crowd of people, as I was feeling too tender inside.
So you're probably still asking yourself, "What the heck is a double?"  It's a psychodrama term for a person who gets you so well that she can speak for you.  In the course of a psychodrama, group members (or the director – the person who's facilitating the piece) can double the protagonist (the person who is exploring an issue through action) to help speak the unspoken, access and deepen feelings, express something that is difficult to say, etc.
One of the most powerful things about being doubled is that it helps to reduce – or even remove – shame.  As Lewis says in his quote, "What?  You, too…?"  By sharing of myself and having someone join me in that space by doubling me, my shame can just dissipate in mid-air.  I can suddenly feel the relief of knowing that I'm not alone, and I can raise my head and look at people again.
When I woke up yesterday morning very early to meet with a group of friends who are on a common spiritual path, I was reminded that it's not about me all the time (imagine that!), and so without telling my friend, I made the trek up to Los Angeles for her party.  I was grateful that there were a number of people there that I knew and I was actually able to have a wonderful time.  But even if I hadn't known anyone, and I'd only stayed for 30 minutes, it would have been worth the 5 hour round trip in the car just to be there to celebrate her.
It's a rare thing to find someone who can double me that deeply, and who will allow me to double her as well.  And when I do, it's a no-brainer.  Life is just too short not to show up for the people in my life I love, no matter how tender I'm feeling.