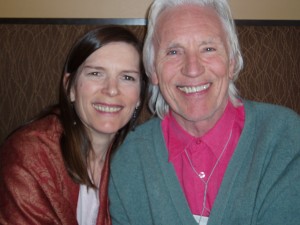 See Me, Feel Me, Touch Me, Heal Me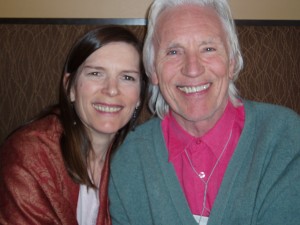 With the release of the new documentary Lambert and Stamp, the world gets a personal view into the journey of two extraordinary men – Kit Lambert and Chris Stamp – who discovered, created and managed The Who for a decade and were also the first to sign Jimi Hendrix to their independent record label, Track Records.
One of those men – Chris Stamp – was my psychodramatic and sober brother.
From the moment I met Chris, I adored him.  He was charming, funny, had such creativity and was so clearly seeking a spiritual path, that it was hard not to love him.  He was also incredibly disconnected from his emotions and his history.  Dissociation or disconnection is a brilliant way to cope with severe trauma – it's almost like being blind, deaf and dumb, as the protagonist in The Who's Rock Opera Tommy was – you're existing in the world, but not really a part of it.  When you consider that Chris survived The Blitz in London during WWII, a long-term alcohol and drug addiction until he got sober in 1987, as well as a number of other traumatic events, it was a survival mechanism that served him well…until it didn't.
It's a long road back from trauma, and when Chris first started doing Psychodramatic Bodywork® in 2002, even after years of sobriety and therapy, he was, in a paradoxical way, very connected intuitively and yet struggling to fully connect emotionally at times.  And like so many of us on this path, he just kept showing up.  Our Wolfpack Group – the name we gave ourselves – met twice a year for 5 days at a time, and each time, he got less and less frozen and more and more connected to himself and his history, and as a result, to all of us.  We would howl together as a group, and the Grey Wolf that he was, Chris would throw his head back and joyfully let the howling sound flow from his throat.  Even at the end of his life, when he was sick and in and out of consciousness, I visited him in the hospital, and when I howled upon coming into the room, his sea-blue eyes popped open and he smiled.
Psychodramatic Bodywork® is a way in to the unexpressed feelings of trauma so as to release them physically and find a way out of the disconnect.  When doing emotional and physical releases in this modality, you often lay on a mat so that the body can flail and move around, without any risk of hurting yourself or others.
I remember quite vividly a piece of work that Chris did on the mat about his experience of The Blitz.  As he lay there tuning into his body to tap into the terror that he had felt 50 years prior, the group, who had gathered around him on the mat started making noises of an air raid and then I started smacking my hand on the mat to mimic the sounds of bombs dropping while other group members joined in with sounds and smacking.  His legs started shaking and then his arms and legs started moving as though he were running – running and running and running into a bomb shelter – as he started screaming the scream that he couldn't make when he was a small boy.
As we continued with the sounds of the bombing, he continued to scream as his body flailed out of control on the mat, releasing the terror that had been locked in his body for decades.  After a few minutes, he stopped and let out a deep breath.  The relief in his body was palpable, and when he finally opened his eyes and said, "Hello?" it was as if he was coming out of the bomb shelter, back into his body and back into his life in a whole new way.
Towards the end of the film, Chris talked about the deep love that he, Kit and the members of The Who had for each other, and how most people are so scared of that kind of intimacy.  Seeing Lambert and Stamp last night reminded me of what an incredible life Chris lived, and how hard he worked to come into his body fully and experience love and intimacy in ways that most of us miss out on – with his wife and soulmate, Calixte, with his daughters and grandchildren, and, I'm incredibly lucky to say, with me.
#Psychodramaticbodywork #trauma #dissociation #LambertandStamp #ChrisStamp #TheWho
____________________________________________________________________
Understanding and being able to include the body in the therapeutic process takes extensive training and practice while being supervised.  Action Institute of California offers Psychodramatic Bodywork® workshops devoted to teaching  practitioners (therapists, counselors, bodyworkers, interventionists, nurses, doctors, etc) how to recognize the signs and symptoms of unexpressed feelings, and facilitate emotional releases safely and effectively.    For more information on our Intro to Psychodramatic Bodywork® Workshop on April 24-26 in Costa Mesa, CA or our Intermediate Psychodramatic Bodywork® Workshop in Costa Mesa, CA on October 9-11, please see our Trainings & Workshop Schedule.
In addition, we provide psychodrama training for professionals; team building, conflict resolution and staff training workshops in business, clinical and medical settings that are tailored to the needs of your organization, and we are committed to providing safe spaces for professionals to do their own work.