Dates: 06/07/2019 - 06/09/2019
Times:9:30 am - 5:00 pm
Location
Balboa Horizons
129 Cabrillo Street
Costa Mesa, CA 92627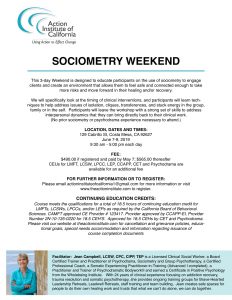 Want to build a group or family's sense of safety and connection more efficiently?  Identify and name the transferences that aren't being named?  Engage the isolated and/or "resistant" clients?  How?  Sociometry.
Most clinicians receive little or NO training in how to build a safe container in a group or with a family.  Without that container, the work can't go very deep and the potential for healing is inhibited.  Through simple sociometric exercises, you will learn how to lower anxiety and build spontaneity in your group, which will propel the group forward – in a very short amount of time – to a deeper sense of connection and safety, and therefore, a more vulnerable group.
Psychodramatist Dorothy Satten, PhD, TEP used to say:  "If you don't reveal yourself, people will invent you…and they'll get it wrong every time."  Through the use of sociometry, we can help group/family members reveal themselves – working from less to more vulnerable exercises – which can facilitate their being seen and understood much more effectively.
This 3-day Sociometry Weekend intensive is designed to help participants better understand how to identify the structure of a group, and make it more inviting and safe for clients to engage in the process. Sociometric explorations such as spectrograms, locograms, barometers, action sociograms, social atoms, and the diamond of opposites will be explored.
We will specifically look at timing of interventions, and techniques to help address issues of isolates, cleavages/cliques, transferences, and resentments, so that participants will have a strong set of skills to address any group-related sociometric dynamics.
A safe and supportive environment will be created to offer participants an opportunity to develop their skills in the role of sociometrist.
COST:  $490 if registered and paid by May 7: $565 thereafter.
There is a $10 additional fee for CEUs for LMFT, LCSW, LPCC, CAADAC, CET or Psychodrama.
LOCATION:  129 Cabrillo St, Costa Mesa, CA 92627
Course meets the qualifications for 18.5 hours of continuing education credit (per weekend) for LMFTs, LCSWs, LPCCs, and/or LEPs as required by the California Board of Behavioral Sciences.  Provider #123417.  Provider approved by CCAPP-EI, Provider Number 2N-10-135-0220 for 18.5 CEH'S (per weekend). Approved for 18.5 CEHs (per weekend) available for CET and Psychodrama.
DOWNLOAD FLYER HERE: Sociometry Weekend June 2019
Register Now
Registration is closed for this event.