Moving Forward: A Retreat for Women Healing from a Relationship with a Narcissist
Map Unavailable
Dates: 02/07/2020 - 02/09/2020
Times:All Day
MOVING FORWARD
A Retreat for Women Healing from a Relationship with a Narcissist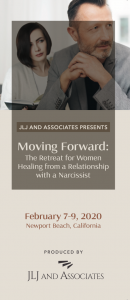 Being in a relationship with a narcissist comes with a rollercoaster of emotions — not the least of which are hurt feelings, frustration, disbelief, and even questioning your own sanity.
Nothing the narcissist says or does is consistent. They are caring and charming one moment, devaluing and spiteful the next. They will express one thing, and then do another. When you confront them with these discrepancies, they blame you, claiming you are the crazy one. And at times, we begin to believe them.
Let's Refocus — on You!
Recuperating from a narcissistic relationship is a complex proposal, usually taking much longer to resolve than ending a so- called "normal relationship." After walking on eggshells for years, it takes time for your system to normalize, to regain your psychological and bodily strength, and to rebuild your self-worth and a sense of who you are.
This retreat for women who are healing from being in a relationship with a narcissist supports you on your path of understanding what you've experienced, how to truly let go and move beyond your anguish, and then ultimately rebuild your life to become an even stronger and more resilient version of who you were intended to be.
FEE:
$1,625 (includes all retreat materials and delicious catered meals)
Deposit: $500 (nonrefundable)
DATES:
February 7-9, 2020
LOCATION:
Newport Beach, California
FOR MORE INFORMATION OR TO REGISTER:
Call, text, or email Jan Moorad (858) 926-8011 | Jan@JLJexecutiveCoach.com