Introductory Psychodramatic Bodywork
Dates: 04/17/2020 - 04/19/2020
Times:9:30 am - 5:00 pm
Location
Casa Capri Recovery
4001 Westerly Place, Suite 110
Newport Beach, CA 92669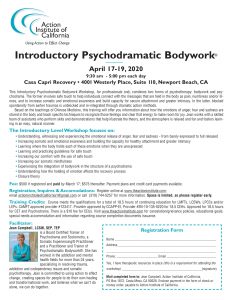 This Introductory Psychodramatic Bodywork Workshop, for professionals only, combines two forms of psychotherapy: bodywork and psychodrama. The former involves safe touch to help individuals connect with the messages that are held in the body as pain, numbness and/or illness, and to increase somatic and emotional awareness and build capacity for secure attachment and greater intimacy. In the latter, blocked spontaneity from earlier traumas is unblocked and re-integrated through dramatic action methods.
Based on the teachings of Chinese Medicine, this training will offer you information about how the emotions of anger, fear and sadness are stored in the body and teach specific techniques to recognize those feelings and clear that energy to make room for joy. Jean works with a skilled team of assistants who perform skits and demonstrations that help illustrate the theory, and the atmosphere is relaxed and fun and fosters learning in an easy, natural manner.
The Introductory Level Workshop focuses on:
• Understanding, witnessing and experiencing the emotional release of anger, fear and sadness – from barely expressed to full released
• Increasing somatic and emotional awareness and building the capacity for healthy attachment and greater intimacy
• Learning where the body holds each of these emotions when they are unexpressed
• Learning and practicing guidelines for safe touch
• Increasing our comfort with the use of safe touch
• Increasing our somatic mindfulness
• Experiencing the integration of bodywork in the structure of a psychodrama
• Understanding how the holding of emotion affects the recovery process
• Closure theory
DATE, TIMES, AND LOCATION:
April 17-19, 2020
9:30 am – 5:00 pm each day
Casa Capri Recovery
4001 Westerly Place, Suite 110, Newport Beach, CA
FEE:
$500 if registered and paid by March 17; $575 thereafter.
Payment plans and credit card payments available.
Registration, Inquires & Accommodations: Register online at www.theactioninstitute.com; email actioninstituteofcalifornia1@gmail.com or call (310) 744-5257 for more information.
Space is limited, so please register early.
Training Credits: Course meets the qualifications for a total of 18.5 hours of continuing education for LMFTs, LCSWs, LPCCs and/or LEPs. CAMFT approved provider #123417. Provider approved by CCAPP-EI, Provider #2N-10-135-0222 for 18.5 CEHs. Approved for 18.5 hours for CET and Psychodrama. There is a $10 fee for CEUs. Visit www.theactioninstitute.com for cancelation/grievance policies, educational goals, special needs accommodation and information regarding course completion documents issuance.
Register Now
Registration is closed for this event.