Ethics in Action (Why Suffer When You Can Have Fun?)
Dates: 06/19/2020
Times:9:30 am - 4:30 pm
Location
Casa Capri Recovery
4001 Westerly Place, Suite 110
Newport Beach, CA 92669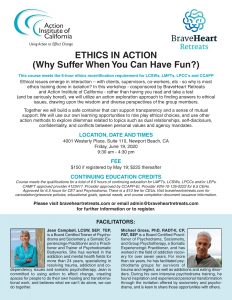 This course meets the 6-hour ethics recertification requirement for LCSWs, LMFTs, LPCC's and CCAPP.
Ethical issues emerge in interaction – with clients, supervisors, co-workers, etc – so why is most ethics training done in isolation? In this workshop, rather than having you read and take a test (and be seriously bored), we will utilize an action exploration approach to finding answers to ethical issues, drawing upon the wisdom and diverse perspectives of the group members.
Together we will build a safe container that can support transparency and a sense of mutual support. We will use our own learning opportunities to role play ethical choices, and use other action methods to explore dilemmas related to topics such as dual relationships, self-disclosure, confidentiality, and conflicts between personal values and agency mandates.
LOCATION, DATE AND TIMES
4001 Westerly Place, Suite 110, Newport Beach, CA
Friday, June 19th, 2020
9:30 am – 4:30 pm
FEE
$150 if registered by May 19th; $225 thereafter
CONTINUING EDUCATION CREDITS
Course meets the qualifications for a total of 6 hours of continuing education for LMFTs, LCSWs, LPCCs and/or LEPs. CAMFT approved provider #123417. Provider approved by CCAPP-EI, Provider #2N-10-135-0222 for 6 CEHs. Approved for 6 hours for CET and Psychodrama. There is a $10 fee for CEUs. Visit theactioninstitute.com for cancelation/grievance policies, educational goals, special needs, and course completion document issuance information.
Please visit theactioninstitute.com or email actioninstituteofcalifornia1@gmail.com for further information or to register.
Register Now