BraveHearted Loving Couples Weekend for Helping Professionals
Dates: 07/17/2020 - 07/19/2020
Times:9:30 am - 5:00 pm
Location
Casa Capri Recovery
4001 Westerly Place, Suite 110
Newport Beach, CA 92669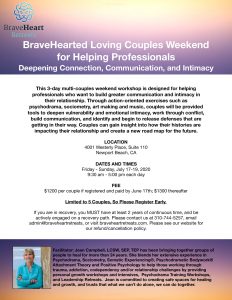 Deepening Connection, Communication, and Intimacy
This 3-day multi-couples weekend workshop is designed for helping professionals who want to build greater communication and intimacy in their relationship. Through action-oriented exercises such as psychodrama, sociometry, art making and music, couples will be provided tools to deepen vulnerability and emotional intimacy, work through conflict, build communication, and identify and begin to release defenses that are getting in their way. Couples can gain insight into how their histories are impacting their relationship and create a new road map for the future.
LOCATION
4001 Westerly Place, Suite 110
Newport Beach, CA
DATES AND TIMES
Friday – Sunday, July 17-19, 2020
9:30 am – 5:00 pm each day
FEE
$1200 per couple if registered and paid by June 17th; $1300 thereafter
Limited to 5 Couples, So Please Register Early.
If you are in recovery, you MUST have at least 2 years of continuous time, and be actively engaged on a recovery path. Please contact us at 310-744-5257, email admin@braveheartretreats, or visit braveheartretreats.com. Please see our website for our refund/cancellation policy.
Register Now