Somatic Exploration Using Action: A Half-Day Training For Professionals
Dates: 01/11/2019
Times:9:00 am - 1:00 pm
Location
Mariposa Center
200 E Katella Avenue
Orange, CA 92687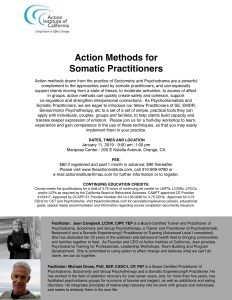 Action methods drawn from the practice of Sociometry and Psychodrama are a powerful complement to the body-related approaches used by practitioners, and can especially support clients moving from a state of shut down/dissociation to greater access of feelings. In groups, action methods can quickly create safety and cohesion, supportive co-regulation and strengthen interpersonal connections. As Psychodramatists and Somatic Practitioners, we are eager to introduce our fellow professionals to a set of a set of simple, practical tools they can apply with individuals, couples, groups and families, to help clients build capacity and tolerate deeper expression of emotion.
Please join us for a half-day workshop to learn, experience and gain competence in the use of these techniques, so that you may easily implement them in your practice.
Date and Time
Friday, January 11, 2019
9:00 am – 1:00 pm
Location
Mariposa Center
200 E Katella Avenue, Orange, CA
Registration
$80
There is a $10 charge for CEUs for LMFT, LCSW, LPCC, CCAPP/CAADAC, CET or Psychodrama.
Download Flyer Here: Action Methods for Somatic Practitioners January 2019
Course meets the qualifications for 3.75 hours of continuing education credit for LMFTs, LCSWs, LPCCs, and/or LEPs as required by the California Board of Behavioral Sciences.  Provider #123417.  Provider approved by CCAPP-EI, Provider Number 2N-10-135-02120 for 3.75 CEHs.  3.75 CEHs available for CET and Psychodrama.
Educational Goals:
1.  Participants will be educated on the benefits of Sociometry.
2.  Participants will experience a variety of Sociometric explorations to better understand their applicability in their somatic practice.
3.  Participants will experience the technique of doubling to better understand its applicability in their somatic practice.
Educational Objectives:
1.  Participants will be able to identify 1 benefit of using Sociometry with their clients.
2.  Participants will be able to identify 1 Sociometric question they can use to build connections with their clients.
3.  Participants will be able to identify 1 benefit of doubling.
Register Now
Registration is closed for this event.