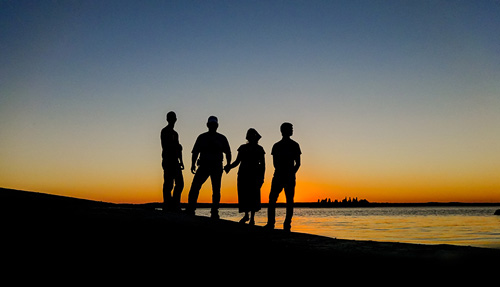 We've all had those moments in our lives where it all just feels like too much. We worry that it will never change and never get better. Despite having done a tremendous amount of therapy, step work or spiritual pursuit, we still feel stuck. Are you at that place – feeling lost, disconnected or out of touch with yourself, others or your Higher Power? Are you overwhelmed by feelings of shame or struggling with issues related to your history of trauma?
If you feel like the light inside you is waning, we can help.
Moonlight Workshops offers a safe space for individuals, couples and families to slow down and explore their inner and outer worlds; a chance to identify and clear away what is no longer working in their lives, and step into their future in a way that allows them to embrace all of who they are and all of who they can be.
Since trauma, pain and shame can't be healed by talking alone, we use action methods such as psychodrama, sociometry, art, music and somatic therapy to help get below the surface, and reveal the deeper issues that are obstructing the way. That revelation can allow for a release of what's no longer working – or hasn't been working for a really long time – making room for new thoughts and actions to shine through.
If you need help sorting through who or what you need to release – to discover who or what is getting in your way – to find your way back to your heart and soul and navigate back to who you are, and who you can be, then come join us.
Step into possibilities. Step into hope. Step into yourself.
Visit our Moonlight Workshops site here.