Step into possibilities. Step into hope. Step into yourself.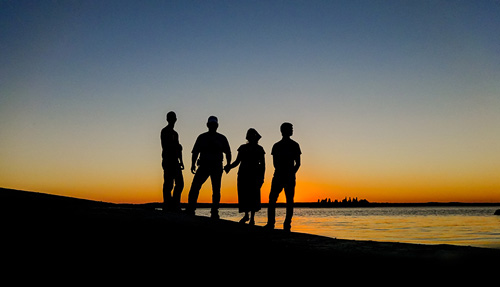 Intensives for Couples
Romantic love can lead to our greatest joys, and our deepest despair, and often, the difference is based on how willing we are to open our hearts, share the feelings that live inside of us, and be open to the same in our partners.
Is it a risk you're willing to take?
By utilizing a blend of Emotionally Focused Therapy, Attachment Theory, The Daring Way™, and Psychodramatic Bodywork®, our Couples Intensives* help to identify the origins of the blocks to intimacy – in onesself and in your partnership – that result in conflict, miscommunication and a lack of intimacy.
Some of the topics we address in our Couples Intensives are:
How to build capacity in your heart, despite your fear of embracing the love and intimacy you crave
How to identify and begin to clear the blocking styles you use to protect your heart
How to develop a consciousness of which behaviors that may be potentially sabotaging your relationship
How to build on the strengths you DO have in your partnership
How to stop feeling lonely in your relationship
How your history of attachment impacts you and how to use your current relationship as a way to help heal it
How to create the relationship you and your partner both desire
Through action-oriented exercises, such as psychodrama, sociometry, art making and music, couples will be given tools to deepen vulnerability and emotional intimacy, work through conflict, build communication, and identify and release defenses – or blocking styles – that have been getting in the way in your relationship.
There will be opportunities to gain insight into how your histories are potentially impacting your current relationship and develop a road map together for how to clear the way and create the relationship you are longing for.
*Intensives can be designed to meet each couple's individual needs, including the number of days they last.
Intensives for Families
When dis-ease or dys-function invades a family, everyone becomes locked into unhealthy behaviors and dynamics, not just the so-called Identified Patient. Most models of family therapy or intervention are focused on getting one person "better" but even if that starts to happen, it doesn't address and change the systemic dis-ease of both that is impacting the entire family. It is only by working with everyone in the system that we can implement lasting change.
We help you understand this dis-ease and/or dysfunction through action exercises, instead of just words and/or power point presentations, so that it's easier to integrate what you've learned and make changes moving forward.
Through these and other exercises, the education we provide will help all of your family members self-identify unhealthy behavior patterns that you've been caught in and make a commitment to each other to change so that the entire system can heal.
At the end of the workshop, EVERYONE leaves with a plan for change, not just the addict/alcoholic. We can then provide case management moving forward to assist you in continuing to implement your plan of healing, as well as facilitate additional family workshops at key moments in your family's healing process.
By coming together for a family workshop your family can be helped to lower anxiety, identify what has been leading to the dis-ease or dysfunction in the first place, practice new behaviors and responses, and make a plan to move forward together on the road of healing.
*Intensives can be designed to meet each family's individual needs, including the number of days they last.
Intensives for Individuals
We've all had those moments in our lives where it all just feels like too much. Even if we've done a tremendous amount of therapy, step work or pursued a spiritual path, we worry that it might never change or get better. We're stuck and we don't know what to do.
Are you at that place? Are you feeling lost or overwhelmed by shame, or struggling with issues related to your trauma?
If you feel like the light inside you is waning, we can help.
Studies have shown that talk therapy alone can't fully heal our trauma, shame or our sense of low self-worth. That's why our Individual Intensives are all action based, using modalities such as psychodrama, sociometry and art, which allows you to get to the issues that live deep in the unconscious – the place that words alone can't heal.
Our Individual Intensives* offer you a safe space to explore your inner and outer worlds, to clear away what is no longer working in your life, and step into your future in a way that will allow you to embrace all of who you are and all of who you can be. We can help you sort through who or what you need to release — to shine a light and help guide you back to your heart and soul.
Come join us, take a break from the stresses of the world, slow down and allow us to help you rediscover your passion and reclaim yourself.
*Intensives can be designed to meet your individual needs, including the number of days they last.